This was sent to me by "Journeyman". There's a history down South worth a peekin' (http://www.subculturalicons.com/TailSliding.html), here's a descendant of those times when kneeboarders ruled Big Rock. Simmons influence needs no introduction.
Thanks J-man!
McCallum Surfboardshave grabbed my eye ever since I first walked intoIcons of Surf. Not easy in that shop. The often understated aesthetics that Jeff incorporates into his boards, derived from a lifelong affinity for hotrods instilled by his dad, let's the eye catch the details of the board itself. Chimed rails, full and sometimes beaked noses, the boards operate much the same as their influence: old school looks, next school performance. Recently, I was thankful to get a go on one of his new models, a blended spoon and Simmons called the 1954; aptly named for the year Bob Simmons passed.
"Bob Simmons had read and studied this book on hydrodynamics during WWII, came up with this idea, and made these boards," says Jeff. The boards, which existed in obscurity for years and are incredibly odd to look at compared to more conventional boards, resurfaced with some controversy.
"The original Simmons was shaped by Joe Bauguess for Richard Kenvin. Richard had shown me that one, I think that was almost four years ago. I shaped the second one ever. The first was that one, Casper, all white, so I made mine all black just to make it different." The creators of Casper and its negative then bumped heads over who had a right to the shape, but after a clandestine appearance of a McCallum-esque egg, Jeff felt the shape safe to dabble with. After two generations of the board, with a third on its way, Jeff has a deeply instilled sense of the board's concept and abilities, allowing him to tweak it, creating something entirely his own.
"Rather than going with the exact Simmons design," says Jeff, "I wanted to put my own little twist on it." Sensing the similarities between a Simmons and a spoon, the combination seemed appropriate. "The 54 is a tweak of the second generation Simmons, more of a displacement hull, but keeping it real wide. I didn't like a big wide tail on a singlefin, it made it slide out." Behold the answer, El Quatro.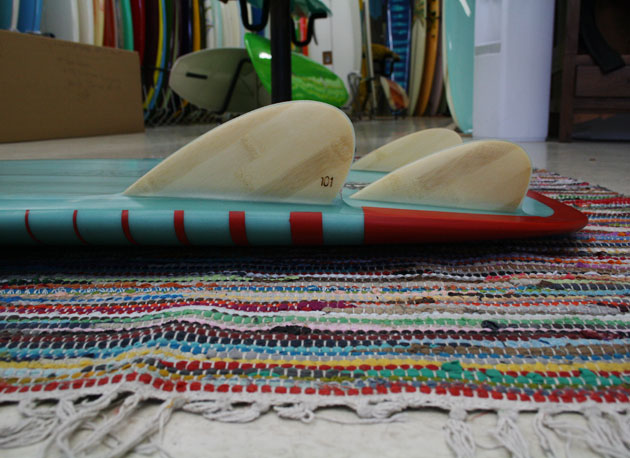 LundgrenYou know what they say, fin placement is everything.
"A lot of the boards I do now are quads, but I really wanted to make a displacement hull Simmons, quad kind of thing. So the rails are real pinched. It doesn't have the full S deck like a traditional hull, like the scoop in the Simmons. It has a flat deck, well not really flat, but mellower, and a little down kick in the tail. I wanted to morph it all into one little thing, you know?"
With no real authority, I'm going to go ahead and pick the 54's soundtrack. Out at Middles on a solid chest high day, the lyrical swagger of Slick Rick was the only voice I had in my head, and that's after a blues filled drive to the beach. The reason for the ruler is found in the feel of the board. It's like running on ice in sneakers, dabbling with the act of losing control and reining it right back in. Not to mention the stories you spin about your session may well get you deported, dependant on your vernacular choices of course. Like Rick, the board is kind of funny to look at, but there's a lot going on.
"The bottom contours are a little more elaborated [than his Simmons] as far as displacement," says Jeff, "the tail is a real hard edge, kind of like a short board egg." For further tweakage, you can even get it with a stringerless tail for flex. "The rails are pinched but all that comes from the extreme displacement in the bottom. They're supposed to be pretty small, I've made them up to seven feet long, but I like the smaller ones."
And so do I. The demo I got my hands on came up to my ribs, standing at a stumpy 4'10", with rails that could perform surgery, and those Middles lines gave me more to be thankful for. With no leash and only 4'10" of foam packed into a borrowed board, I played it cautious for the first couple waves. But off the first, the speed was blatant.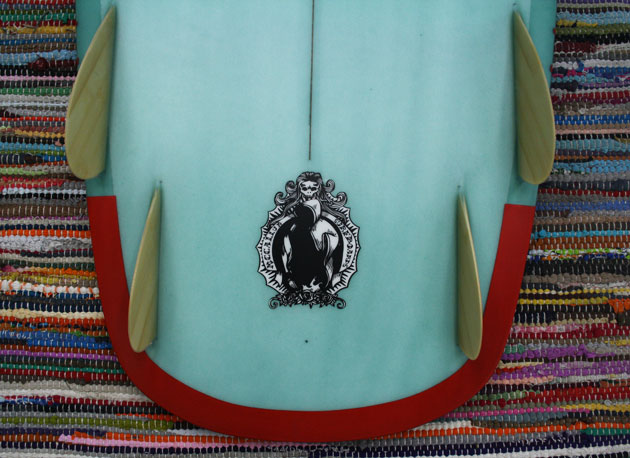 LundgrenBaby got back.
After dropping into a wave, I looked behind, and to my chagrin, my friend was still there. About to kick out, I hit a high line and the razor rails of the 54 Jokered the lip. I Usain Bolted and as I tried to check turn and re-enter far down the line, the board flew out the back like a bar of soap. Apparently, subtlety of motion is the key. If only I had talked to Mitch Abshere first.
"You don't have to do much. It's more ... don't do too much," says Mitch, laughing. "It will do its little turn; you don't have to lay into any of it. It's real subtle, it definitely responds really well. And speed wise, that board is one of the fastest boards I've ever ridden." Dropping in deep and late, I was thankful once again. Getting sent straight down into the flats, I eventually managed to find a rail and get a late bottom turn in. Next thing I knew, I skated my way around the section and right back to the pocket. I think I was still smiling over that wave the following day when I talked to Mitch, but I couldn't quite figure why. Mitch nailed it, "I think my favorite part is that I'm 6'2 and the board is 4'10, and I'm like man, I'm on a 4'10 and I can ride this thing, and I'm having a ton of fun," — one of Jeff's main goals for anyone who picks up the 54.
"I was driving in San Clemente with a friend," says Mitch, "and the 54 was hidden in a sock, and he asks, is that one of the McCallums? He was freaking out." Like Slick Rick, Jeff's boards, and the 54 especially, are unmistakable. While the 54 may not be for everyone, for those to whom the tune does call, an eccentric eclectic collection of sessions is on the way.